MOBILE SOLUTIONS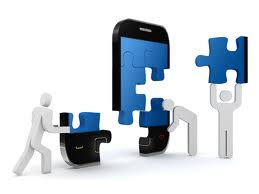 Mobility means different things to different people, but everyone agrees that migration to mobile devices is rapidly increasing. As revenue from mobile data begins to exceed revenue generated by fixed-voice data, organizations are realizing the impact to their businesses and are leveraging this migration by mobilizing to accelerate business cycles, increase productivity, reduce operating costs, and extend the reach of their enterprises. Organizations positioned to accommodate the growing demand for Internet via mobile devices are expected to gain market share and a stronger customer base.
Organizations that are developing mobile applications face unique challenges, such as smaller screen sizes necessitating a redesigned workflow, differing navigational interfaces (including touch screens, mouse-like nibs, and multiple browsers), and Smartphone capabilities. Converting existing websites into mobile ones involves addressing and overcoming these challenges in order to compete.
SVK Infotech Mobilizes Enterprises, Employees, and Customers
SVK Infotech helps clients capitalize on the potential of mobile technologies by taking a practical approach to conceptualize, design, and implement customized mobility solutions that enhance the organization's core business, operations, communications, and customer experience. Our capabilities in developing to unique requirements are strengthened by a team experienced in mobility, and ensure that our solutions incorporate the latest development methodology and technologies, including Web 2.0 Technologies, Streaming Media, Geolocation, and Mobile Security to position our clients for success. SVK Infotech works with client businesses and toolset partners, aligns with client business objectives, and provides the best solution to meet those objectives. SVK Infotech's Mobility Solutions cover three areas:
Mobile Web Development
SVK Infotech develops new, custom Mobile Web applications, migrates existing enterprise applications to mobile platforms, and creates mobile websites. SVK Infotech creates customized interfaces and mobile applications that run on disparate mobile devices, yet provide an intuitive, device-specific user experience across markets. SVK Infotech offers the following benefits:
Device detection and customizations, based on device capabilities
Pre-configured and customized applications
Redesign of existing information architectures into a workflow that is enhanced for a mobile environment
Partnerships with mobile application platform vendors
Technologies that include ASP.NET with C# using MVC Framework, mobile-optimized UI code, and JAVA-based script
Embedded Applications for Mobility
With a strong background in the Telecom/Datacom industry, SVK Infotech provides development, maintenance, application testing, middleware, and embedded software for OEM/ODM manufacturers and service providers across industry segments, including the following services:
Product Conceptualization and Deployment
Prototyping
Commercial Grade Software Development
Porting
Middleware development for handheld devices
Independent Validation & Verification, Simulation, and Testing
Product Enhancement and Maintenance
Deployment, Integration, Commissioning, and Maintenance
Strategic Approach to Mobility
SVK Infotech can make your data, products, and services remotely accessible, ensuring that connectivity is maintained for your mobile customers and employees. Working with some of the world's leading businesses, SVK Infotech has developed an in-depth understanding of the challenges and complexities involved in mobilizing an enterprise for Web portals and data security. At SVK Infotech, we address these challenges, taking industry best practices and our own extensive experience to offer a strategic approach to mobility across continents and time zones. The convergence of voice and the movement of data at the point of activity will enable your organization to become more productive, reach customers more easily, maximize the efficiency of employees, and make better and faster business decisions.
Partnering for Extended Access
SVK Infotech partners with leading providers of hardware and software for mobility solutions. Our mobility experts are experienced in many industries and technologies. SVK Infotech's dedicated ERP practice, with solutions from leading vendors such as JDA, Lawson, Oracle, PeopleSoft, and SAP, provides us with the experience we need to develop expert mobility solutions that access key enterprise applications. SVK Infotech's project approach helps our clients through the entire project lifecycle, from requirements definition and scoping, through device selection, provisioning, security, integration, support, and device management strategies.
SVK Infotech Brings Mobility Expertise
SVK Infotech's strength lies in having a dedicated team with extensive experience in conceptualization, technology selection, and implementation of mobility solutions, accommodating all sizes and types of screens. SVK Infotech creates custom, graphical user interfaces and brings knowledge in storage and speed ratio optimization. Our workforce is global, but your relationships with SVK Infotech are local. Changing technologies are no challenge to SVK Infotech, whose solid experience and use of practical, yet innovative approaches melds the best of existing architecture and applications with emerging technologies to provide just the right Mobility Solution.