BPM Management Services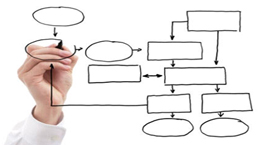 In today's rapidly changing business landscape, organizations are still struggling to cope with the dynamics of their business ecosystem which comprises of their customers, people, vendors, partners and their infrastructure. Thus it becomes imperative for organizations to posses the agility to respond quickly and this agility stems from effective processes in place.
SVK Infotech's Business Process Management (BPM) software and services empower organizations of all sizes to not only meet but exceed our customers' expectations, not only react to, but anticipate shifts in the marketplace, and all of this while keeping costs under control.
SVK Infotech offers rich experience and deep expertise in BPM technology. Our Business Process Management (BPM) Services offers process centric solutions for today's agile business to identify, design, execute, document, monitor, control, and measure both automated and non-automated business processes to achieve targeted results consistent with an organization's strategic goals.
BPM Service Offerings:
To help transform your business, we offer the following services:
Business Process Management Strategy and Roadmap Development
Process Mapping and Analysis (As-Is)
Process Design and Modeling (To-Be)
Process Optimization using Industry Best Practices
Process Deployment
Process Monitoring and Controlling